Regional economic policy must be revamped if the North East is to get a fair deal in the wake of the Scottish independence vote, a national research director has said.
Dr Angus Armstrong, director of macroeconomic research at the National Institute of Economic and Social Research, said the Treasury does not prioritise the North East and politicians must form a strong and unified voice to correct the imbalance.
At a debate on how September's vote will impact on the region, regional leaders also heard of a "growing realisation" Scotland may not lower corporation tax, allaying fears the country would suck business from its neighbours.
It comes as all seven North East councils, from Durham to Northumberland, agree a Combined Authority which will allow it to bid for more Government funding.
Dr Armstrong said regional policy is not a priority for the Treasury when it calculates how to spend Government cash and the North should look to reconsider a regional assembly to be heard above its southern counterparts and in Europe.
He said: "I used to work for the Treasury during the crisis and regional policy does not register. I hate that that is the case, but I really don't think it is part of Treasury policy. I think the whole concept of regional policy needs to be re-thought."
He added: "People in the South East underestimate the extent to which power is centralised, so, although they have a feeling there is something of an imbalance, that imbalance is greater than that feeling would suggest.
"The reason I say that is because of the financial crisis. The only reason they could support the City of London is because of the taxpayers of the rest of England.
"When it goes wrong we pay, it is quite remarkable and I find it amazing that places outside of the South East don't have more to say about that. I do think the degree of imbalance is extremely significant."
Pat Ritchie, chief executive of Newcastle City Council, said the region's airports and universities could lose out due to a possible relaxation in border controls which might see students flock to Scottish universities.
She added there were fears changes to the Air Passenger Duty tax could see carriers opt to begin routes from Scottish airports.
Ms Ritchie, however, said there was an opportunity for the region to export goods to the country and, with Edinburgh closer to the region than London, collaborate with Scottish national leaders.
She said: "We should and can be confident in our strengths. This is a region which exports more than any other region and it is already used to working with different markets.
"Whilst not wanting to marginalise what is an important debate, we should not get too hung up on what Scotland might or might not do.
"We need to really develop the strongest possible economic offer that we can for the North East and collaborate as local authorities and businesses and be confident."
Professor David Bell, professor of economics at the University of Stirling, also spoke at the debate, organised by the Institute for Public Policy Research (IPPR), and said Scots are keenly aware of the need to collaborate with the North.
"I don't think that the North East is particularly disadvantaged because for Scotland to get anywhere with these negotiations there would have to be a cluster of compromises, and it would make no sense to have poor relations with its near neighbours."
He added the North East faced being drowned out by the South East but there was a "growing realisation" that Scotland could not drive down corporation tax as it risked becoming a tax haven for businesses.
He said: "I go to talk about independence on a regional basis and the elephant in the room is the lack of political impetus, particularly in the North East.
"It is just not there and it isn't part of the issue.
"If Scotland votes yes or if it votes no and gets more powers, you will have a heavily asymmetrical system in England which cannot continue to be stable."
Source – Newcastle Journal,  28 March 2014
The lovely wibbly wobbly old lady
'ello, 'ello, 'ello, what's going on 'ere then?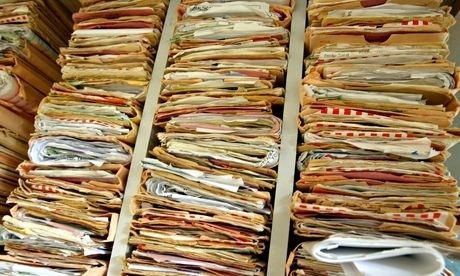 Patients' records at a GP surgery. According to David Davis, in the past police would need to track down the GP who held a suspect's records and obtain a disclosure order. Photograph: Christopher Thomond for the Guardian
The database that will store the entire nation's health records has a series of "backdoors" that will allow police and government bodies to access people's medical data.
David Davis MP, a former shadow home secretary, told the Guardian he has established that police will be able to access the health records of patients when investigating serious crimes even if they had opted out of the new database, which will hold the entire population's medical data in a single repository for the first time from May.
In the past, Davis said, police would need to track down the GP who held a suspect's records and go…
View original post 833 more words
Universities and colleges in the North East could be stripped of millions of pounds in funding used to give students from poorer backgrounds a fairer chance of getting a degree.
The cash is at risk because the Department for Business, Innovation and Skills, which is responsible for higher education, needs to make savings of £1.4bn.
Teesside University currently receives £5.9m each year, the University of Northumbria at Newcastle receives £3.5m, University of Sunderland receives £3.3m, University of Newcastle upon Tyne receives £1.1m, University of Durham receives £660,000, Newcastle College receives £959,00 and New College Durham receives £637,000.
The money, known as Student Opportunity funding, is allocated to universities and higher education colleges which succeed in attracting students from neighbourhoods where few people have traditionally taken part in higher education.
It also goes to institutions which succeed in retaining students who would statistically be more likely to drop out, and to those that recruit students with disabilities.
Leaked documents have revealed that the Department for Business is looking for ways to save £570m this year and a further £860m after the election.
Danny Alexander, the Chief Secretary to the Treasury, is reported to be pushing for Student Opportunity funding to be abolished, while Business Secretary Vince Cable and Higher Education Minister David Willets are lobbying to keep it.
Asked to comment on the reports, the Department for Business, Innovation and Skills said in a statement: "The Department is going through the process of allocating budgets for 2014-15 and 2015-16 and will set out plans in the usual way."
Prof Peter Fidler, Vice-Chancellor of the University of Sunderland, was one of nine university leaders across the country to write a public letter warning: "The removal of this fund will damage economic growth and have a wider impact on sectors beyond higher education."
The letter said that axing the fund "suggests that the Government is willing to abandon the cause of social mobility in higher education."
The future of the fund was raised in the House of Commons by Labour's Shadow Higher Education Minister Liam Byrne as MPs discussed funding for engineering students. He said: "On top of the huge cuts for educating 18-year-olds in college, we now hear rumours that the student opportunity fund that helps poorer future engineers will be completely axed.
"Will the Secretary of State take this opportunity to promise the House that he will not sacrifice social mobility to pay for the chaos in his Department's budget?"
In reply, Business Secretary Vince Cable highlighted £400m in funding for science, technology, engineering and maths courses – but did not comment on the future of the Student Opportunity Fund.
The National Union of Students has launched a campaign to preserve the funding.
Toni Pearce, NUS president, said: "Cutting the Student Opportunity Fund is an absolute disgrace and, in the wake of cuts to the National Scholarship Programme, looks like the Government is backtracking on its commitment to support social mobility in favour of balancing the books on the backs of the poor."
Mr Byrne said: "The Department for Business budget is a complete mess because high paying students at private colleges got access to the state student loan system. Now it looks like help for poorer students will be axed to pay for it."
Source – Newcastle Journal, 25 Jan 2014