> More smear tactics, courtesy of the Daily Excess –  "hunt down" all those benefit fraudsters who are the real cause of all ills. You know it makes sense (to Excess readers, anyway…)
The Government has brought together officials from the Department of Work and Pensions, the tax office and local authorities to tackle the crime.
The streamlined approach goes hand-in-hand with powers unveiled earlier this year to clamp down on benefit fraud, including using bailiffs to confiscate high-value possessions from convicted benefit cheats.
> Now there's a tactic which would work better against all those tax-cheating individuals and companies… but somehow they never get around to them.
Minister for Welfare Reform Lord Freud said: "Reducing benefit fraud and error in the system is a crucial plank of our welfare reforms to make work pay and the system fairer for everyone.
"By bringing teams from local authorities and HMRC into our investigation service we will be able to build on the hard work we've already done to crack down on benefit fraud.
"Alongside this change, Universal Credit is expected to reduce losses due to fraud by £1billion in five years when it is fully in place across the country."
> Ha ha ha – Universal Credit is the biggest benefit fraud of all, millions spent on it and it still doesn't work.  If they'd not embarked on it, there'd be plenty of money for benefits.
The new service went live in nine local authority areas on Tuesday July 1 and will be rolled out across the country in the autumn.
It started in Corby, Cornwall, Cardiff, Southampton, Oldham, Hillingdon, Wrexham, Blaenau Gwent and East Ayrshire.
Joint investigations between local authorities and the Government have already led to a string of convictions, including Alycia Mallett from Broxbourne in Hertfordshire who admitted falsely claiming £35,700 in benefits while working as an escort.
She was given eight weeks' custody suspended for 12 months in April at Stevenage Crown Court.
Source – Daily Express, 04 July 2014
> NOT included in the Excess article – 
Fiction: People believe that some 27% of the Welfare Budget is claimed as a result of fraud
Fact: The actual figure is 0.8 % whilst tax avoidance and evasion is estimated at anywhere from £30bn to £120bn.
the void
Iain Duncan Smith's response this week to soaring low paid self-employment shows he remains as clueless as ever about what is really going on in the jobs market.
According to IDS, figures showing that the number of self-employed workers has jumped by 600,000 is a sign of "entrepreneurial spirit" and proves that his bungled and reckless policies are working. What is really going on is very different and lays the foundation for an unemployment time bomb at the heart of Universal Credit.
Some of the rise in self-employment is almost certainly down to falling living standards.  People who have taken early retirement are  setting up small businesses in an effort to pay soaring bills, along with so-called mumpreneurs – parents forced out of the workplace due to huge childcare costs and shit wages. The rise of the internet has also allowed some of those who are unemployed to generate a…
View original post 571 more words
It's part of their culture…back in the 1980s I knew someone who worked for the DHSS (as it then was) but left precisely because she was always being told NOT to help people claim their full entitlements, only the barest minimum she could get away with. Things haven't changed at all, except to get nastier.
The lovely wibbly wobbly old lady
Reposted from the Guardian Society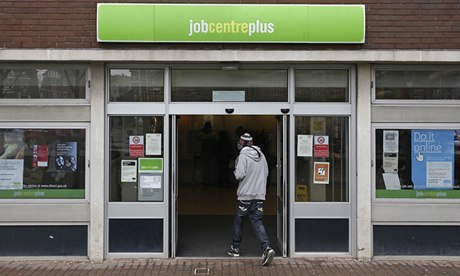 Benefits claimants are being shortchanged, says the Demos thinktank. Photograph: Bloomberg/Bloomberg via Getty Images
Millions of benefit claimants – who as a group fail to receive £5bn a year that they are due from the state – are being shortchanged by the welfare system rather than overindulged, a thinktank says on Sunday.
Rather than cutting benefits, ministers should seek to ensure that those on welfare receive their full entitlement, Demos says. Official figures show that one million people a year do not receive their full entitlement of housing benefit, equating to a failure by the state to pay out up to £3.1bn.
More than two million people a year do not apply for relief from paying their council tax bill, equivalent to more than £1.7bn in savings to the state. Meanwhile, the number of pensioners that were estimated to be entitled but not claiming…
View original post 514 more words