Tagged:
Health and Social Care Information Centre
Diseases thought to have been confined to the history books are prevalent within the North East.
New figures published for the first time paint a picture of hospital admissions in the region for some diseases widespread in the 19th and early 20th Centuries.
Statistics from the Health and Social Care Information Centre show hospital admissions in the North East for gout were as high as 422 from May 2013 until April this year.
In the past, the illness has been dubbed "the disease of kings" as a number of monarchs are thought to have been affected, including Henry VIII, because of their ability to eat rich, fatty foods.
But those living in the poorest places are more likely to be affected now, with 13.5 out of every 100,000 people living in the most deprived areas of the country affected compared with eight out of every 100,000 in the richest places.
Dr Clive Kelly, consultant physician with an interest in rheumatology at Gateshead's Queen Elizabeth Hospital, said medics are dealing with an increasing number of gout patients in the region.
He said: "It does not surprise me that there is a high number of hospital admissions due to gout as there has generally been an increase in cases in the last decade because people are living longer and, therefore, have a higher chance of developing the condition.
"Although in the old days it used to be seen as a 'disease for kings' it is now probably more associated with poorer populations, such as the North East, as they tend to have a higher intake of fatty foods as opposed to wealthy people in the leafy suburbs down south."
The HSCIC publication also focuses on TB, whooping cough, measles and malnutrition.
Durham, Darlington and Tees area group had the highest rate of measles diagnosis in the country at 2.3 per 100,000 population, more than double the rate of its neighbouring Cumbria, Northumberland, Tyne and Wear area at just 0.8.
This year, there was a serious outbreak of measles in the North East, with most of the cases in unvaccinated schoolchildren and young adults.
Figures show 88 people were admitted to hospital in the North East for TB, while there were 42 admissions for measles and 41 for malnutrition.
Yet, nationally, the report reveals overall admissions where malnutrition was a primary diagnosis decreased from 683 in 2012-13 to 612 in 2013-14. However, during the same period there was an increase in overall admissions where malnutrition was a primary or secondary diagnosis, from 5,590 to 6,690.
Over five years there was a 71% increase in admissions where malnutrition was a primary or secondary diagnosis, from 3,900 admissions in 2009-10 to 6,690.
Kingsley Manning, chair of the HSCIC, said: "It is fascinating to look at current statistics for some of the diseases and conditions that were prevalent in the 1800s and early 1900s."
Source – Newcastle evening Chronicle, 24 July 2014
Mike Sivier's blog
A refreshing change seems to be sweeping through local news media here in the UK, with stories starting to appear about people who are fighting unjust behaviour by the government.
The rest of us should support this.
For example: Workington woman Jeanette Johnston, 29, had a job until recently but has been forced to give it up due to congenital health problems which mean she has already had a kidney removed and will need a heart and lung transplant in the future.
She had been receiving Disability Living Allowance but this was stopped last August after aids including bed ladders were fitted at her home, following recommendations from an occupational health expert.
DWP advisors told her that the benefits would stop until she was reassessed for the Personal Independence Payment (PIP) – and she has now spent half a year waiting for that appointment.
Jeanette's tale raises several questions. Why does…
View original post 569 more words
The lovely wibbly wobbly old lady
'ello, 'ello, 'ello, what's going on 'ere then?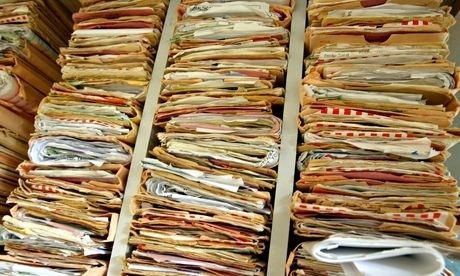 Patients' records at a GP surgery. According to David Davis, in the past police would need to track down the GP who held a suspect's records and obtain a disclosure order. Photograph: Christopher Thomond for the Guardian
The database that will store the entire nation's health records has a series of "backdoors" that will allow police and government bodies to access people's medical data.
David Davis MP, a former shadow home secretary, told the Guardian he has established that police will be able to access the health records of patients when investigating serious crimes even if they had opted out of the new database, which will hold the entire population's medical data in a single repository for the first time from May.
In the past, Davis said, police would need to track down the GP who held a suspect's records and go…
View original post 833 more words