A community leader making a stand against an "anti-Islam" demonstration in Newcastle has received beheading death threats from a vile racist thug.
Councillor Dipu Ahad, a key figure in Tyneside's Muslim community, told how he received a late-night anonymous call saying "you watch; going to kill you, you just watch."
Mr Ahad, who says he has been the target of racist threats on a number of occasions, said:
"They called me calling me a Black f****** b******. They also said they would chop my head off as well as a f****** Muslim ****."
The call came as Mr Ahad helped organise a counter-demonstration to Pegida UK's first British demo, planned to take place in Newcastle city centre at the end of this month.
Now, fears are growing that the protest is attracting members of the region's Far Right organisations, which Pegida claimed they were trying to "distance" themselves from.
Pegida said last week they planned a "peaceful" demonstration not associated with any extreme Far Right organisations.
Hundreds of people have already gone online to confirm attendance at the rally. The British arm of the highly-criticised German protest movement say their North East following is one of the reasons they will be coming to the city on February 28.
Now, in response, multi-cultural group, Newcastle Unites, chaired by Howard Dickinson, say they will be organising a counter-demo on the same day.
Councillor Ahad, spokesman for the group, said:
"We pride ourselves on the diversity of our communities and our mixed heritages. Newcastle Unites notes, however, an increase in racism, anti-Semitism and Islamophobia in Britain and the rest of Europe. In particular a virulent Islamophobia movement known as 'Pegida' has emerged recently in Germany where it has been strongly condemned by politicians and faith leaders.
"We are aware that local racists are intent upon importing the 'Pegida' message into the UK and are organising an Islamophobic march through Newcastle.
"Newcastle Unites believe that such a development will only serve to stir up racism and division, undermine community cohesion and besmirch the name of Newcastle in the eyes of many in the UK and indeed around the world.
"We believe Pegida must be stopped from spreading their message of racist hate and intolerance and from getting a toe-hold in Newcastle and the UK.
"In the event of Pegida's provocative march going ahead Newcastle Unites is committed to organising a vibrant, peaceful, multicultural and multi faith counter demonstration that will involve people from the widest possible backgrounds.
"The aim of the protest would be to send on clear and simple message that Pegida is not welcome in Newcastle. The people of Newcastle and the North East must all stand together in unity in the face of Islamphobia, anti Semitism and all other forms of racism and fascism."
Councillor David Stockdale, from the Blakelaw ward, is backing the counter-demo.
He said:
"Pegida's UK branch like to present themselves as reasonable and harmless. In planning their Islamophobic rally in Newcastle they claim to be operating completely independently of the usual extreme-right gang who frequent EDL and National Front demonstrations in the region.
"Nothing could be further from reality. A simple search of their Facebook and Twitter profiles reveal the truth. It's the same people pedaling the same racist hate under a different banner.
"When I confronted Pegida about this they blocked me from commenting on Facebook and Twitter but the North East EDL seemed to take exception at being challenged. They spent much of the weekend cowering behind their anonymous Twitter account trying their best to intimidate me with not-so-subtle threats. I don't encourage anyone to engage online with these bullies and I should have followed my own advice by ignoring them.
"I am fully behind the counter-demonstration being organised by Newcastle Unites. This is a broad Coalition of the Left who are coming together to stand up and speak out against Islamophobia, racism and intolerance.
"We will be standing shoulder to shoulder with Newcastle Unites in opposing the intolerant views of Pegida if they descend on our city. I encourage anyone who can to come along to the counter demonstration."
Under the banner of 'Patriotic Europeans against the Islamisation of the West', Pegida claims it is trying to defend countries from the spread of extremism at the hands of Muslim immigrants.
Since the Charlie Hebdo attacks in Paris, dozens of Pegida chapters have popped up online, prompting some reports that the group is establishing a bigger presence across Europe.
Plans for the counter demo came on the day MPs warned social media users who spread racial hatred could be banned from sites such as Twitter and Facebook.
An All-Party Parliamentary Inquiry into anti-Semitism wants prosecutors to examine whether prevention orders like those used to restrict sex offenders' internet access could be used.
Source – Newcastle Evening Chronicle, 09 Feb 2015
"The new personal independence payment, which will replace the disability living allowance, will cost almost three and a half times more to administer and take double the amount of time to process".

Says it all really, doesn't it ? I can't help thinking that when they talked about benefit "reform", they really meant "deform".
The lovely wibbly wobbly old lady
Reposted from Guardian Society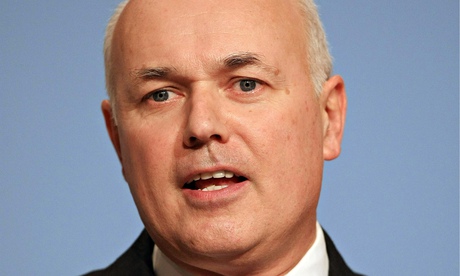 Poor performance has forced Iain Duncan Smith's department to stagger the full roll out of PIPs. Photograph: David Jones/PA
Sick and disabled people trying to claim a new benefit introduced by Iain Duncan Smith are facing "distress and financial difficulties" because of mismanagement by civil servants and the outsourcing firms Atos andCapita, a spending watchdog has found.
The National Audit Office discovered that the new personal independence payment, which will replace the disability living allowance, will cost almost three and a half times more to administer and take double the amount of time to process.
It has released a report into the new benefit as the government's £500m contract with Atos comes under increasing scrutiny. Disability minister Mike Penning described the contract with the benefits testing firm Atos as a "mess". Atos says that it wants to pull out of the contract early…
View original post 547 more words
An MP has said she's determined to stand up to internet trolls after she received a barrage of abuse online.
Chi Onwurah, MP for Newcastle Central, became a target for cyber bullies after she spoke out on theissue of children's toys.
She hit headlines earlier this month when she led a debate in parliament on gender-specific toys.
Chi pointed out that it was "illegal to advertise a job as for men only but apparently fine to advertise a toy as for boys only. Why should girls be brought up in an all-pink environment? It does not reflect the real world."
She also condemned toy shops that have a pink aisle for what they see as girls' toys and a blue aisle for boys' toys.
But, ever since Chi spoke out, she has been on the receiving end of a stream of abuse on social networking site Twitter.
Chi said: "I've had quite a bit of intense abuse, the whole range right up to, although thankfully not including, death threats.
"Everything from aggressive sexual swearing to bizarrely being told that I'm both a publicity seeker and that no-one is interested in the issue.
"I've been told I'm stupid, lazy and had the strongest swear words directed at me."
But she vowed: "I'm determined it's not going to stop me."
In her speech to parliament, Chi claimed that directing girls towards pink toys featuring princesses and domestic tasks, while boys are encouraged to play with construction toys and characters who have adventures, limits their horizons and is bad for the economy.
She pointed to a page from a 1970s Argos catalogue that featured toys such as a baby buggy or shop till in variety of colours and compared it to the current catalogue, which has the same toys but only in pink.
She said: "I'm not calling for legislation.
"There is a fear that you are accused of wanting a nanny state but we are just fighting for more choice so children can play with what they want.
"It causes a lot of distress among parents to see their girls forced down the route of being pink puppets.
"I've had a lot of parents contact me since the debate too."
Fellow Labour MP Stella Casey received rape and death threats after she called for more women to be featured on bank notes.
And Isabella Sorley from Newcastle and John Nimmo from South Shields were jailed after they sent messages to campaigner Caroline Criado-Perez.
Another alleged troll is due to face court this month.
Source – Newcastle Journal,  24 Feb 2014