CIVIC bosses remain confident Sunderland has a bright economic future, despite a new report which says it has fewer businesses per head of population than any other city in the UK.
The Centre for Cities' 2015 Cities Outlook report ranks Sunderland as the lowest out of 64 for 'business stock', with 186 businesses per 10,000 people.
The city is also second bottom for new business start-ups and patents registered.
It is not all bad news, however, with the city ranked fourth best in the country for manufacturing jobs and 22 out of 60 for the number of people with 5A*-C GCSEs including Maths & English.
Sunderland City Council leader Coun Paul Watson said:
"This Centre for Cities report offers a useful comparison which confirms that we are making good progress on a number of fronts, but that we face some of the same challenges that we have been aware of for a long time.
"What lies behind the figures is perhaps most interesting for Sunderland residents.
"Manufacturing, in particular, has undergone a period of rapid growth within the city – with Nissan having increased output by 50 per cent in the last two years.
"And we've seen a spate of private investment in the city centre complemented by our own investment in new public space such as the Keel Square, which is nearing completion.
"With these behind us, Sunderland is on course for further growth in jobs and prosperity in the years to come."
> Growth of 16 hour/week and zero contract jobs, if the vacancies are anything to go by. Whether that's something to celebrate is a matter of opinion.
Today's report highlights the growing gulf between the south of England and the rest of Britain.
It shows that for every 12 net new jobs created between 2004 and 2013 in cities in the south, only one was created in cities throughout the rest of Great Britain.
And with an election just months away, it calls on all parties to ensure their visions for growing cities are based on significant devolution of both fiscal and structural power, providing incentives to support economic growth, and giving greater flexibility to ensure money can be spent where it is most needed.
Cities Outlook is the annual health-check of the economic performance of the United Kingdom's 64 largest cities.
This year's report maps the fortunes of cities over a decade of economic boom and bust, during which three major parties have held power.
It shows national growth between 2004 and 2013 was largely driven by only a handful of cities – mainly located in the South – which have seen their populations boom, their number of businesses grow, and thousands of new jobs created while migration of young and skilled workers, a lack of business growth, and falling employment opportunities have other cities' economies to contract.
The report says successive Governments' efforts have failed to rebalance the national economy and warns even the best-performing cities in the south are now facing problems, especially from rocketing house prices.
"Five months out from the election, this report makes the strongest economic case yet for the next Government to step up to the challenge of investing in the long-term success of our cities, and build a brighter future in which more people and places can contribute to, and share in, prosperity and growth," said Centre for Cities acting chief executive Andrew Carter.
"The stark picture the report paints of the enormous gap in the fortunes of UK cities over 10 years underlines why a 'steady as she goes' approach must be scrapped.
"We must move from thinking that bundling up new funding streams with bureaucratic delays, or simply tinkering around the edges with well-intentioned announcements, will be enough to reverse trends that are becoming increasingly entrenched.
"Cities need long-term funding and strategic planning, and policies that go to the heart of addressing the key drivers of economic growth – including transport, planning, skills and housing.
"This report throws down the gauntlet for all parties to turn their recent interest and pledges around cities and devolution into a clear plan to grow jobs and businesses, and improve quality of life throughout the United Kingdom."
Source –  Sunderland Echo,  19 Jan 2015
he Chancellor has been told his Budget today must address the North East's unemployment record.
Businesses, house builders and unions have said the Government needs to start growing all parts of the UK economy, not just the South, and urged George Osborne to use his Budget to tackle the number of people out of work in the region.
At 10%, the region's unemployment rate stands as the highest in the UK, remaining around that level even as unemployment falls in large parts of the rest of the country.
The North East Chamber of Commerce has already written to the Treasury calling for a renewed focus on tackling job creation in all parts of the UK.
Policy director Ross Smith said: "We have seen the recovery really accelerate over the past year. We now need to see measures that will sustain this for the longer term and make it better balanced – not a series of pre-election gimmicks.
"North East businesses are making a huge contribution to that recovery, but doing so within an economic system that is still skewed towards the South East. We need to see measures that will capitalise on the region's export success, energy expertise and capacity for growth.
"That includes taking better account of the regional implications of taxes such as fuel duty and air passenger duty, better balanced delivery of infrastructure, and greater scope to ensure skills training matches the labour market needs in this region."
The need for a regional focus was repeated by Beth Farhat, regional secretary of the Northern TUC.
She said: "Most people in the North East aren't experiencing a real recovery and in fact for many here it's getting worse, with unemployment for women rising 20% in the last year alone.
"We need a Budget focused on creating more North East jobs, with better quality work alongside with fairer pay. Ministers should end their ideologically obsession with cuts and privatisations to public services and focus much more on a thought-out approach to developing the economy, particularly in regions like ours.
"When eight out of 10 private sector jobs are being created in London it's clear the current plan isn't working and the economy is still geared towards London and the South East at the expense of everywhere else.
"There is a consensus across the region about what we need to do, so I'd urge the Chancellor to hand us the economic tools, powers and investment needed to enable us to contribute to regional success and balanced national growth."
Newcastle Council leader Nick Forbes said house building was a key way of kickstarting the North East. He said: "What we need is a tax break to incentivise house building on brownfield development sites – this would help deal with the chronic shortage of housing and make it financially viable for construction companies to take on more apprenticeships.
> Would it ?  Or are we just talking about more housing that the majority of us couldn't afford even if we are working ?
"The Government has announced their intention on building a New Town at Ebbsfleet, but a tax break like this would help us rebuild areas like Scotswood and Walker Old Towns."
And the North East-based Home Group has also had its say, calling on the Government to force through better use of public land, making it easier for firms to build.
The affordable housing group called for the creation of special Housing Zones in which, like the business-led enterprise zones, incentives would be offered to kick start the building process.
Source – Newcastle Journal,  19 March 2014
The lovely wibbly wobbly old lady
'ello, 'ello, 'ello, what's going on 'ere then?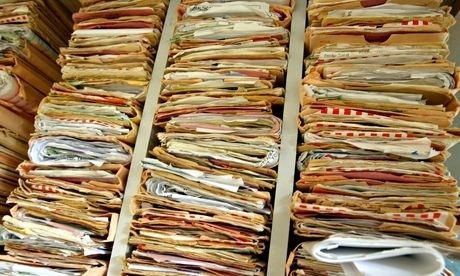 Patients' records at a GP surgery. According to David Davis, in the past police would need to track down the GP who held a suspect's records and obtain a disclosure order. Photograph: Christopher Thomond for the Guardian
The database that will store the entire nation's health records has a series of "backdoors" that will allow police and government bodies to access people's medical data.
David Davis MP, a former shadow home secretary, told the Guardian he has established that police will be able to access the health records of patients when investigating serious crimes even if they had opted out of the new database, which will hold the entire population's medical data in a single repository for the first time from May.
In the past, Davis said, police would need to track down the GP who held a suspect's records and go…
View original post 833 more words