The Government must use the "hard lessons" it learnt from welfare reforms which caused "significant financial and human costs", says the National Audit Office (NAO).
In a new report published today, the NAO criticised the Department for Work and Pensions (DWP) "important and high profile failings" in implementing an unprecedented number of welfare reforms and employment programmes.
The report says the Government "relied too heavily on uncertain and insufficiently challenged operating assumptions, and did not have a sufficient understanding of its portfolio of programmes or overall capacity."
It adds that the DWP has a "high-level vision but needs to think more strategically when considering how reforms will work in practice."
"The Department has thought too late about the management information and the leading indicators it needs to understand progress and performance", says the NAO. "This meant the Department took several weeks to identify backlogs in Personal Independence Payment claims."
Auditors credited the Government for responding well "to uncertainty", but added that it "should be able to set out plans with specific timetables, costs and impacts and reflect where flexibility is needed."
"They should also have clear processes for revising plans against changing circumstances or expectations", says the NAO.
The NAO criticised the DWP's initial handling of the Universal Credit. The NAO says the department "held too rigidly to fixed deadlines and now has adopted a more flexible approach. It will need to reconcile this approach with the requirement to monitor progress against milestones."
In implementing a significant welfare reform programme, the DWP "relied too heavily on reacting to problems and has not been able to anticipate possible failings or establish the principal ways in which performance and progress can be measured".
The NAO called on the Government to "plan more openly for the possibility of failure, and build an integrated view of portfolio risks and capacity".
Amyas Morse, head of the National Audit Office, said:
 "Any large portfolio of reforms will run into problems. The Department has shown a resolute approach to dealing with them. However, we think it has relied too much on dealing with difficulties as they emerge rather than anticipating what might go wrong.
"As a result it has had to learn some hard lessons with significant financial and human costs. It is important that the Department use these hard lessons to improve how it manages change and anticipates risk."
Gillian Guy, Chief Executive of Citizens Advice, said the Government must learn from the mistakes of previous changes to welfare.
Citizens Advice has found that delays and problems with the delivery of reforms such as Employment and Support Allowance increased hardship and anxiety for many people.  Last year we helped people with almost two million benefit issues, more than any other type of problem.
"As Ministers look to make further savings from the welfare budget it is important they fully understand the impact proposed reforms have on people's lives.
The Government must be certain that further cuts won't just shift costs away from the welfare budget and into other areas such as health and social care.
Changes to benefits can have a far-ranging impact on people's lives, so any reforms need to delivered at a safe and steady pace."
Source – Welfare Weekly, 29 May 2015
http://www.welfareweekly.com/government-must-learn-from-welfare-reform-mistakes-say-auditors/
Iain Duncan Smith's flagship Universal Credit programme may not deliver 'value for money', the Government spending watchdog has warned today (26 November).
The net value of Universal Credit is now estimated to be £14.5 billion – £1.7 billion lower than three years ago. The figure supposedly accounts for reduced welfare spending and other 'societal benefits'.
However, the National Audit Office (NAO) said it's too early to determine whether Universal Credit will deliver 'value for money' for taxpayers, "regardless of how it is implemented and the cost of doing so".
Delays in the implementation of Universal Credit, changes to its delivery service and problems with IT mean additional costs for taxpayers, including £2.8 billion more in staffing costs (NAO estimate) and £130 million wasted on failed IT software.
The DWP is planning to start rolling out new IT software for Universal Credit in just 18 months. However, the NAO said the DWP "does not yet have a contingency plan" if the IT software (delivery service) experiences "delays or fails". This in turn could result in yet more losses.
According to the NAO, if the new delivery service is delayed by just 6 months the value of Universal Credit "reduces by £2.3 billion due to lost societal benefits".
Their report also criticised the government for failing to "stabilize senior leadership roles and responsibilities". Universal Credit has seen seven chiefs in only two years, with the former DWP Work Service Director Neil Couling replacing Howard Shiplee less than two months ago.
Chair of the Public Accounts Committee Margaret Hodge MP (Labour) accused the DWP of "throwing good money after bad", in botched attempts to fix Universal Credit.
Margaret Hodge said:
"The Department is throwing good money after bad by introducing a short-term fix with no adequate plan for delivery, insufficient skills and unclear milestones to measure progress against."
Shadow Work and Pensions Secretary Rachel Reeves added:
"The National Audit Office has cast grave doubts over the future of Universal Credit. This shocking report says the benefits of Universal Credit have fallen by £1.7 billion and that value for money, 'can't be determined'. It also confirms the roll-out of the new benefit won't be complete even by 2019 as Iain Duncan Smith has repeatedly promised.
"The National Audit Office report is further evidence that the government's handling of Universal Credit has been disastrous. It's neither on time or on budget as the government promised. It's yet another example of Tory Welfare Waste. Ministers must urgently get a grip of the huge waste and delays to this failing programme."
Amyas Morse, head of the National Audit Office, said:
"The Department for Work & Pensions has reset Universal Credit on a sounder basis but at significant cost, by extending the time for implementation and choosing a more expensive approach.
"It is now vital that the Department quickly establish clear goals for delivering the programme, in terms of cost, time and functionality, against which it can be held to account."
Work and Pensions Secretary Iain Duncan Smith defended the botched roll-out, arguing it was "best" to properly test Universal Credit before expanding the programme to more jobcentres.
He added that poor families on Universal Credit would "get more money". They "go into work quicker, they stay in work long and families will benefit enormously".
Source –  Welfare Weekly,  26 Nov 2014
http://www.welfareweekly.com/universal-credit-may-not-deliver-value-money-says-nao/
"The new personal independence payment, which will replace the disability living allowance, will cost almost three and a half times more to administer and take double the amount of time to process".

Says it all really, doesn't it ? I can't help thinking that when they talked about benefit "reform", they really meant "deform".
The lovely wibbly wobbly old lady
Reposted from Guardian Society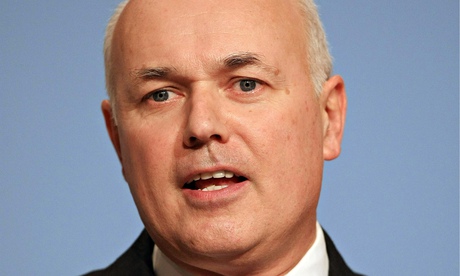 Poor performance has forced Iain Duncan Smith's department to stagger the full roll out of PIPs. Photograph: David Jones/PA
Sick and disabled people trying to claim a new benefit introduced by Iain Duncan Smith are facing "distress and financial difficulties" because of mismanagement by civil servants and the outsourcing firms Atos andCapita, a spending watchdog has found.
The National Audit Office discovered that the new personal independence payment, which will replace the disability living allowance, will cost almost three and a half times more to administer and take double the amount of time to process.
It has released a report into the new benefit as the government's £500m contract with Atos comes under increasing scrutiny. Disability minister Mike Penning described the contract with the benefits testing firm Atos as a "mess". Atos says that it wants to pull out of the contract early…
View original post 547 more words